Have you ever had a complete conversation with someone in your head, someone not physically in the room (office, car, bathtub) with you? Most of us do; some of us even make a recurring habit of it. *raises hand guiltily*
In some ways it's a decent way of sorting out thoughts or practicing potentially difficult things we want to say. On the other hand, as a habit it can lead to a particular kind of short-circuiting of opportunities for vulnerability and intimacy when we start to invest and even PREFER those internal conversations to actual face-to-face discussions.
I don't remember where in my training I first came across the idea of these internal constructs; certainly the concept of them runs through a number of therapies. I do remember the first time my own therapist called me out on the practice of using these internal constructs as a shield to protect myself from having arguments with my then-partner; the givewaway was when I described unleashing a torrent of anger on the poor man for simply walking into a room, unsuspecting the rage I had built up in my head over something that started as an innocuous thing. "Going supernova" was a term my ex-husband and I came to use for those unpredictable explosions; they generally happened after I'd had plenty of time to work myself up through these invisible conversations and could or would no longer contain that vast sea of seething anger.
It's not a bad thing in and of itself to talk to these constructs. The PROBLEM happens when the process starts to look more like this:
We have a thought.
We have feelings about that thought.
We start to imagine what we might want to say to the Other about those feelings (or thoughts).
We imagine, based on exposure and experience, what they will say and do in return.
In pondering that assumed response, we begin to react emotionally (in our heads).
We use that reactivity to justify taking a STANCE (in our heads).
We get entrenched in emotionally defending that stance (in our heads).
We leverage brilliant arguments (in our heads).
We imagine them counterarguing.
"How dare they!?", we think (in our heads).
We escalate (in our heads).
They defend (in our heads).
We are positively incandescent in our righteous rage (in our heads).
…and then the Other walks in, all unknowing, and inadvertently joins the Invisible Battle Already In Progress (in our heads).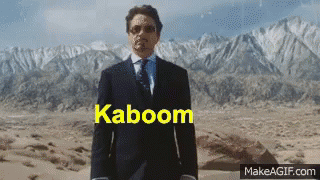 When we become emotionally invested in these internal constructs, when we habitually engage with them more readily than we do with our flesh-and-blood partners, when we rage dramatically at the invisible as if it were as real and valid is breathing, corporeal entities, THIS is Masterpiece Sock Pippet Theatre. It is also Masterpiece Sock Puppet Theatre when our conversations with the puppets result in us talking ourselves out of doing something because we anticipate rejection, obstruction, dismissal, etc., from our partners. When the sock puppets in our heads convince us that we can't say, do, believe, have what we want, we've bought into that internal piece of theatre… but at what price?
We create puppets, internal 2D constructs, that only ever respond as we EXPECT and ASSUME they will. And therein lies the death of intimacy. By choosing to engage with these sock puppet versions of Others on difficult topics more commonly than we do so with their real counterparts, we deny ourselves and our partners an opportunity to practice vulnerability in relationships, shutting ourselves off from genuine intimacy in the process. Also, lashing out at, or disappointedly disconnecting from, partners without (from their perspective) clear provocation, means we're often engaging in what appears to be "disproportionate response", especially if we've worked up a serious emotional mountain from a potential molehill of a trigger.
When I worked a tech writing contract at BlackBerry a few years ago, we in the Global Product Security team had a motto that steered everything we did with vulnerability reports: "Trust, but verify." This meant we take the report at face value, that there was an exploitable weakness in our hardware or software, but verify the report in-house with the experts before acting on the report. I have learned that this "Trust, but verify" motto also works exceptionally well when sock puppets are present in a relationship dynamic. Nowadays I challenge clients on their assumptions of how they believe a partner will think/feel/behave, and I explore when they last validated their working models by engaging a partner directly on the topics that most commonly take the stage in their respective versions of Masterpiece Sock Puppet Theatre.
The part that makes this vulnerable is that these internal models *ARE* often based in experience. Sometimes that experience is particular to the current relationship under examination; other times, it's a response to a very generalized set of assumptions accumulated over multiple relationships (non-specific language about "all men", "all women", "all my relationships", etc., are the key flags for generalizations). If the experience to date justifies *expecting* certain responses from a partner, that's useful information; we TRUST that the client has come to this conclusion for good reason. But then we also have to VERIFY that the assumption remains valid over time, or as relationships change. This requires looking at how those triggering topics get addressed in the relationship context: is the issue with the assumptive response based in communications patterns we can change for improved reception and connection? Are there ways we can tailor the discussion to decrease reactivity in the relationship dynamic, hopefully without also introducing or increasing emotional labour on the client's part?
Verifying internal models sometimes means we have to risk having rough conversations, so we coach clients on how to do so in safest possible terms; sometimes this is the point at which we suggest individual clients seek relational counselling or family mediation. Yes, it will almost always feel safer to interact with ONLY those sock puppets. But that won't guarantee we're making decisions or choosing a course of action based in the most accurate information available. Masterpiece Sock Puppet Theatre is all about self-protection and control; if we control the sock puppets, we have a sense of control over the situation, and we make decisions based on "safe" information, even if it's unverified information in the freshest sense. To seek interactive, fresh information means putting ourselves in a vulnerable position, and there may be reasons why that is at best uncomfortable, and at worst, feel completely untenable and personally unsafe.
But we also acknowledge that we, ultimately, are NOT the Subject Matter Experts on other people, no matter how heavily we invest in our internal working models (no, not even therapists). Talking with the sock puppets can help us prepare for a tough conversation, but in the end, if we want to make INFORMED decisions, we really should ensure we have the most accurate information we can acquire from the verified source of that needful information. Before we get emotionally invested in our reaction to a decision made with a sock puppet, we should step outside the theatre and ask a real human for their input. It's risky, but it's also the only way we get true intimacy in relationship. We may never completely break the habit of those internal, preparatory, conversations… but when we catch ourselves having them, they can become a flag that we haven't verified that topic or outcome with the real-life Other in the equation… and especially if it's something important to *us*, we should probably set the sock puppets aside to address that.